Take CzechClass101 On The Go with Innovative Language 101
Available for the Android, iPhone, iPad and Kindle Fire.
Learn Czech anywhere with CzechClass101 on your mobile device
All of our lessons, lesson notes, progress tracking and premium tools are available on your smartphone or mobile device. Want to switch from the app to your computer and continue where you left off? You can! Our system is fully integrated!
Innovative Language 101 is free to download and is available to all users
Free Lifetime Accounts, Basic, Premium and Premium PLUS. Download the App, choose Czech from the "Choose Your Language" screen and log in to CzechClass101.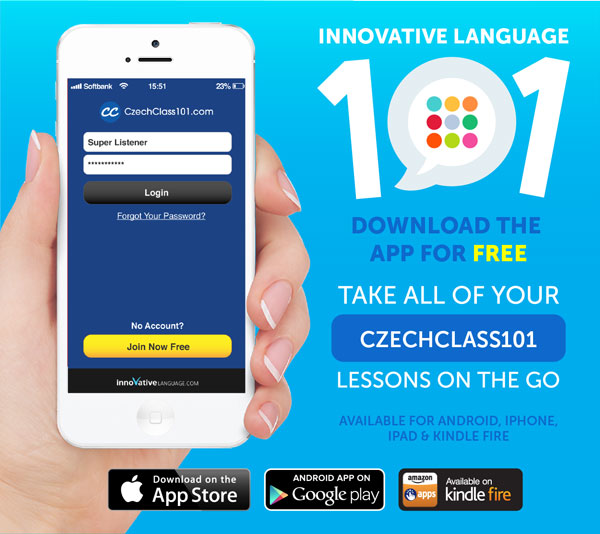 Here's what our users are saying about the App
Finally all my lessons at the flick of a screen. Downloaded this 10 minutes ago and I'm sold. This just might inspire me to continue renewing my Premium subscription.
- JohnnyLTN
Finally!! I have been waiting for innovative to actually release something like this forever!! So far looks like pretty much what I had hoped for, a convenient way to interface with the web content on a smartphone. And track progress more easily.
- Rocketmanblamb
Love the way this app keeps track of what I have learned and also allows me to download lessons for when I'm not near wifi. Excellent instructors and the material is well planned and executed. Thanks.
- chowpod
Here's what you get with the Innovative Language 101 App
New Users – Try It Free: Start your 7-Day Free Trial! 7-Day Free Premium Trial for new users with easy registration sign-up and easy in-app upgrading
Existing Users – Sign In Now: Convenient Basic and Premium login and profile access for existing CzechClass101 website users
Download Manager for Offline Study: Hands down, the easiest way to listen on the go! Download any lesson you have access to with your account and listen offline from your Library
Upgrade In-App: This is upgrading made easy. In-app purchasing of Basic, Premium and Mobile-only subscriptions available. (Kindle Fire users will be redirected to the CzechClass101 website to upgrade)
Full Language Library: New and archived audio and video lesson access covering the Absolute Beginner to Advanced levels
Innovative Lesson Tools: You get PDF notes, Line-By-Line Transcripts and Vocabulary Lists with audio (Requires active 7-Day Free Trial, Basic or Premium Account). Mobile-only users also have access to these features
Multiple Playback Options: Stream lessons over or download an entire series to study offline, on your own time
Fully Integrated Learning System: Your lesson progress is synced between our websites and the App so you never lose momentum
Personalized Learning: Curate your own learning plan in My Library. You pick and choose the lessons you want to study
iCloud Sync: Never lose your lesson progress. If you close a lesson, you can return to it and continue where you left off in the lesson with iCloud Syncing. (Not available for the Android App)
Exclusive Discounted In-App Subscription upgrades for mobile users
Quick Customer Care: Easily report feedback and errors and contact our friendly customer support team from within the App
31 Languages In Total: Want to try another language? This App carries all 31 of our Innovative Language Courses from ArabicPod101 to VietnamesePod101.
Want to unlock Basic or Premium access to CzechClass101?
You can easily upgrade to Basic, Premium, or a Mobile-only Subscription with an in-app upgrade. If you upgrade through the CzechClass101 website, you'll automatically unlock Basic or Premium access to the App as well.