The title sounds almost funny, doesn't it? However, listening to the funeral-like tune and "strange," old-fashioned words and expressions certainly won't make you laugh.
Every time I see proud American or French people jump up and sing along when their anthem starts playing, my heart clenches. Play the Czech anthem in a room full of Czechs… Nothing will happen. Sadly, we're not patriots––quite the opposite, actually––and it shows. Don't get me wrong, when the Czech hockey team won the gold medal at the Olympics 20 years ago, most of us felt very… Czech. Since then… Radio silence in the patriotism department.
In this article, we will explore and decipher the lyrics and history of the Czech national anthem. According to some, it is a beautiful expression of Czech ideals: humanism and deep love for our beautiful land. Compared to the heroic French La Marseillaise or spunky Slovakian Nad Tatrou sa blýská (which used to be the second part of Czechoslovakian anthem before 1993––more on that later), it's not much. It seems to lack energy and fire… And I can't help but compare their presidents to our old man when I hear the slow, sort of tired-sounding tune.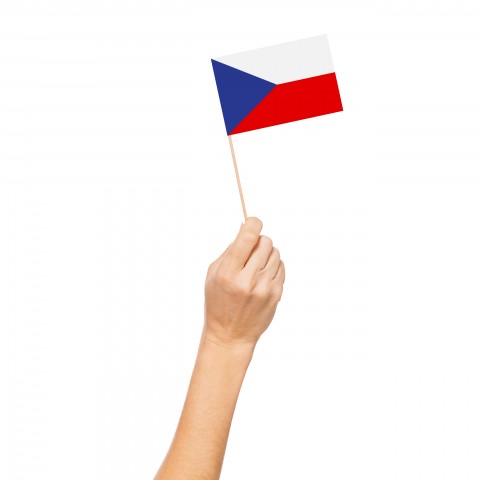 Czech flag – Česká vlajka.
Table of Contents
1. The History of Czech Anthem: It Started with an Opera
Believe it or not, this piece was originally written for a patriotic opera comedy called Fidlovačka aneb Žádný hněv a žádná rvačka ("Fidlovačka, or No Anger and No Brawl"). In the play, written by Josef Kajetán Tyl and composed by František Škroup, it is performed during a very emotional, sad scene by a blind violinist. The author, Josef Kajetán Tyl, wasn't sure about the song's quality, and almost convinced the director to leave it out. He felt the composer's version, as opposed to the festive chorale that he asked him to compose, was too sentimental.
Imagine his surprise when Fidlovačka became widely popular among the Czech audience who, at those dark times, striving for recognition and trying and failing to break free from the oppressive Habsburg monarchy––in 1834, people would grab every chance to be Czech, speak Czech, sing in Czech to affirm their national identity, and let the German empire know they would hold their ground no matter what.
It is hard to believe that some people found this sweet song "vulgar."
➣ Czechs were only an ethnic minority, and the goal of the opera and the future anthem was to enhance the national feeling and pride.
Kde domov můj was soon accepted as an informal Czech anthem, and when Czechoslovakia, aka the First Republic, was founded in 1918, it became the first official anthem of the young country. Because of the ethnic and language diversity (it was VERY common to speak German at that time), the anthem was translated into German and Hungarian. The German version of the anthem was used between 1918 and 1938.
Fun Facts:
The title of the play later became the name of a theater in Prague.
The bilingual Czechoslovakian version was played in many Slovakian towns at noon before the countries split in 1993.
Before Czechoslovakia was established, there was a long debate about whether the song was still suitable and whether there should be a more "serious" piece written for this noble purpose. Remember, opera was almost like today's movies, and having a "movie soundtrack" as an anthem was considered almost frivolous by officials and folk.
Here is a great example of typical Czech dark humor: "Do you know what would happen if the Jaslovské Bohunice powerplant (Slovakian nuclear powerplant) exploded? We would switch anthems: Slovaks would sing "Where My Home Is" and Czechs "Lightning over the Tatras." 
2. Lyrics of Kde domov můj
➣ Although the Czech anthem has two stanzas, only the first one is played at ceremonies, important official events, and sports championships.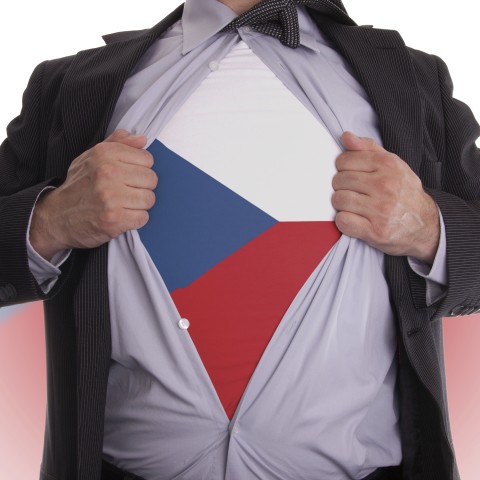 Patriot – Vlastenec.
A – Czech Anthem Lyrics and English Translation:
First verse:
Kde domov můj, kde domov můj,
"Where my home is, where my home is,"
voda hučí po lučinách,
"Streams are rushing through the meadows,"
bory šumí po skalinách,
"Midst the rocks sigh fragrant pine groves,"
v sadě skví se jara květ,
"Orchards decked in spring's array,"
zemský ráj to na pohled!
"Scenes of paradise portray."
A to je ta krásná země,
"And this land of wondrous beauty,"
země česká domov můj,
"Is the Czech land of my home,"
země česká domov můj!
"Is the Czech land of my home!"
Second verse:
Kde domov můj, kde domov můj,
"Where my home is, where my home is,"
v kraji znáš-li bohumilém
"If, in the heavenly land, you have met"
duše útlé v těle čilém,
"Slender souls in spry bodies,"
mysl jasnou, vznik a zdar
"Of clear mind, vigorous and prospering,"
a tu sílu vzdoru zmar,
"And with a strength that frustrates all defiance,"
to je Čechů slavné plémě
"That is the glorious nation of Czechs"
mezi Čechy domov můj!
"Among the Czechs (is) my home!"
mezi Čechy domov můj!
"Among the Czechs, my home!"
B – Czechoslovakian Anthem: 1918 – 1993
Before the countries split on the 1st of January, 1993, the first stanza and the Slovakian song Nad Tatrou sa blýská ("Lightning over the Tatras", literally "Above Tatras it is lightning")––written in 1844––formed the official, two-part, bilingual Czechoslovak anthem. 
➣ Both were played and sung in their respective languages, the first, Czech part in Czech, the second, Slovakian stanza, in Slovakian.
The main theme is a storm over the Tatra mountains––a symbol of danger threatening to the Slovakian people, and their strong desire to overcome all their hardships. This patriotic song was particularly popular during the national insurgencies in 1848 – 1849.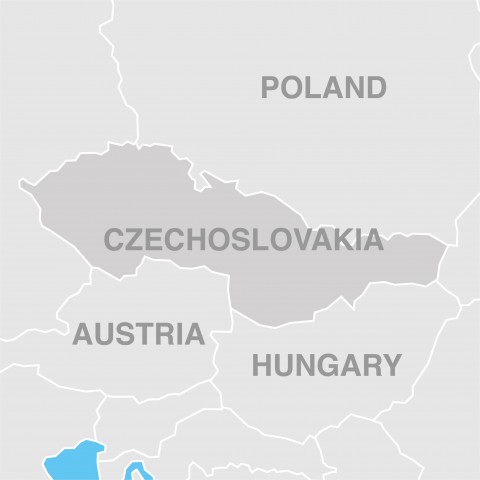 Czechoslovakia – Československo.
The Slovakian Part of Czechoslovakian Anthem:
Nad Tatrou sa blýska, hromy divo bijú
"There is lightning over the Tatras, thunders wildly beat,"
Nad Tatrou sa blýska, hromy divo bijú
"There is lightning over the Tatras, thunders wildly beat."
Zastavme ich, bratia, veď sa ony stratia,
"Let's stop them, brethren, after all they'll disappear,"
Slováci ožijú.
"the Slovaks will revive."
Zastavme ich, bratia, veď sa ony stratia,
"Let's stop them, brethren, after all they'll disappear,"
Slováci ožijú.
"the Slovaks will revive."
C – What Does the President Think?
Our former president Václav Klaus offers his opinion: "I hear it quite often––played now by a Kazakh orchestra, now by an Indian, Qatar or Israeli one. Their renderings are quite original. Recently I was in the United States, near Boston, at Brandeis University, and when I was entering the room to deliver my lecture, a jazz trio played our national anthem – an absolutely unconventional group of American jazzmen. By the way, the national anthem is a very frequent topic of my discussions with my counterparts. I often say: 'It is interesting how slow, solemn and quiet our anthem is, compared to yours, which is youthful, striking and full of spirit.' I approach the national anthem with great humbleness. It is a serious thing."
The newest recording of the Czech national anthem was presented at a ceremony in the National Museum in Prague on the 28th of September 2008––the Day of Czech Statehood.
The Czech Republic has been a member of the EU since 2004.
D – Related Vocabulary
| | |
| --- | --- |
| Czech | English |
| Hymna | Anthem |
| Státní znak | State Emblem |
| Standarta prezidenta republiky | Standard of the President of the Republic |
| Státní svátek | Public holiday (or Bank holiday, you can find the list of Czech public holidays here) |
| Vlajka | Flag |
| Vlastenectví | Patriotism |
| Slavnostní ceremoniál | Festive ceremony |
| Projev prezidenta republiky | Speech by the President of the Republic |
3. When is it played?
Kde domov můj is played at important, official speeches, memorial services and ceremonies and, of course, sports events (during championships and Olympics). 
➣ Basically, it's played every time the Czech flag is raised, and when there's a great victory or revolution.
Czech Anthem Videos:
Here's a new version with beautiful scenery in the background:
This is a very emotional footage from the Velvet Revolution––end of communist era––from 1989, sung by two widely popular Czech singers. It contains the Slovakian part as well: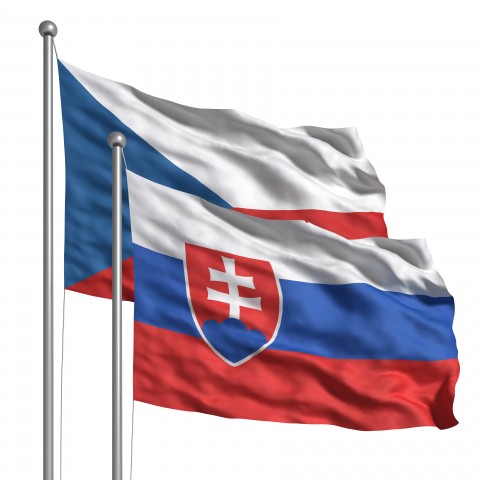 The 28th of October: Independent Czechoslovak State Day, of many Czech bank holidays.
4. How CzechClass101.com Helps You Learn Czech in a Fun Way
That's it, guys! I hope you enjoyed this article and learned something new! In case the location words and phrases listed in this article weren't enough for you, and you want to keep learning, please check out our Basic Bootcamp – the very basic grammar and vocab in 5 compact lessons.
If you're taking Czech language learning seriously, and want to learn Czech fast, free and online, you might grab a Czech grammar book or learn online (which is way more convenient). Seriously, learning a new skill has never been easier. Just grab your phone and get to work!
CzechClass101.com will make learning Czech easy, exciting, and fun. With us, it's not about endless memorizing or thick textbooks. Learn Czech the better way – with us, you'll make progress faster than you could imagine!
What can you find here?
Sign up now, it's free!
One last thing: Let us know in the comments if you like the Czech anthem, and how you feel when your country's national anthem is playing. Share some useful tips and tricks!