Not many people know where the Czech Republic is (I don't blame them: it's a tiny country hiding between two giants, Germany and Poland), but everyone knows someone who has been to Prague.
I've lost count of how many people who, upon learning where I come from, have shrieked in excitement: "My neighbor's nephew visited Prague! He said it was such a lovely city! We must go someday, too!"
Believe it or not, Prague is just as exciting and has the same old-timey atmosphere as other, more "famous" European cities. It looks similar, and (for now) Prague travel is more affordable than travel in many other European cities. That's why it's a loved and popular destination not only among tourists, but also among many movie-makers. 
Are you familiar with the films Blade II (2002), Hellboy (2004), or Mission Impossible (1996)? Then you've kind of seen Prague already. In the 2006 movie The Illusionist with Ed Norton, Prague filled in for late-nineteenth-century Vienna. A huge chunk of Casino Royale (2006) was shot in various Czech locations: Prague, Loket Castle, and Prague Airport (which filled in for Miami International). 
Prague, the seat of medieval Bohemian kings, is a small yet charming jewel in the heart of Europe. Even those who don't care about history or architecture will most definitely be smitten with its ancient bridges, squares, churches, cobblestone streets and, of course, the breathtaking view of the largest castle in the world, standing proudly above the river. 
The largest castle in the world, covering 18 acres. 
Are you ready to pack your bags? 
In this Prague travel guide from CzechClass101.com, we'll help you make the most of your trip by answering such questions as:
When is the best time to visit Prague?
What are the places to visit here?
Is it worth visiting Prague Castle?
Is Prague a safe city to visit?
We'll cover this and more in our article!
Table of Contents
Before You Go: Basic Info About Prague
As mentioned, Prague is one of the best-preserved cities in Europe and it will transport you right back to the seventeenth century. I'm sure you've heard quite a lot about this charming City of a Hundred Spires, but you'll need some practical info as well while planning a visit to Prague.
Population
With around 1.3 million inhabitants, Prague is the largest city in the country by population. The population is spread over ten different districts within the city, and it's densest in the center and southern areas of Prague.
Weather
If you're wondering when to visit Prague for the best experience, keep in mind that the Czech Republic has a continental climate. That means…
…mild, humid summers with occasional hot spells.
…cold, cloudy, and humid winters with temperatures often below freezing.
…lots of sun all year round.
You can visit any time of the year, though mid-April to September or mid-October would probably offer the most pleasant, sunny weather.
If you're excited to see all the gems covered in snow, you might be disappointed—snow is sparse in the Czech Republic (except for in the mountains, of course).
Travel Tips + Packing Reminders
Prague (and the Czech Republic in general) is still considered a budget-friendly destination, although it's not "Eastern European cheap" like, well…Eastern Europe, Budapest, or Bratislava. Most decent hotels don't charge more than 2.000 CZK (just below $100), and if you want to splurge and enjoy the comfort of a five-star hotel, it'll cost you about twice as much.
As for meal prices, they won't break the bank either. A dinner for two, including drinks, is usually around 700 CZK ($30, give or take).
Additional reminders:
You're going to need a type E socket, and don't forget that your U.S. gadgets (like clippers or hair dryers) will get fried if you try using them in the Czech Republic—trust me, been there, done that.
Most supermarkets, hotels, restaurants, and other tourist attractions accept euros. While you can use your card, it's a good idea to bring some cash just in case.
The Czech Republic is in GMT+2 time zone.
Most people do NOT speak English. Our Czech Key Phrase List will come in handy in a pinch. 
If you're not sure how to pronounce the names of the attractions you want to visit, feel free to use our list of Tourist Attractions in the Czech Republic!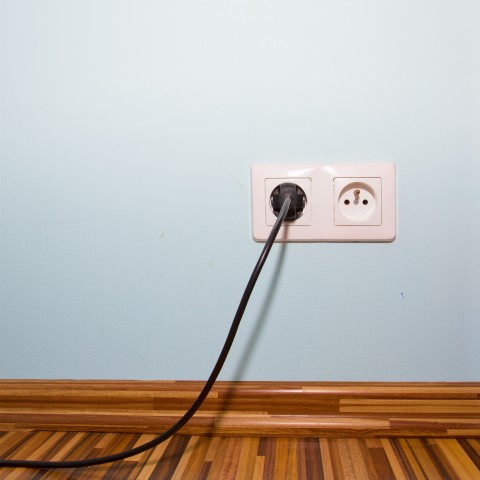 Type E socket.
Must-See Places for a 1-3 Day Trip to Prague
If you don't have a lot of time to visit Prague, one to three days should be enough for you to see the medieval city center, museums, and churches.
Here's what you shouldn't miss:
Day 1
Old Town (Staré město)
You do not want to miss the amazing, incredible astronomical clock (orloj) installed in 1410. It's the third-oldest astronomical clock in the world and the oldest clock still operating. But there's one problem: The Old Town Square (Staroměstské náměstí) is always crammed with people. Here's my little tip:
Get there early in the morning, definitely before eight a.m. Grab a cup of Starbucks, enjoy the fun performance, have breakfast (and make sure you know how to order it), send a video of the dancing figures to your friends with a funny caption (every hour, two doors above the clock open and the twelve apostles on a rotating platform send you their blessings, one after another, followed by prejudices and other still or moving figures). And then, go on with your day in Prague.
Charles Bridge (Karlův most) and Old Town Bridge Tower (Staroměstská mostecká věž)
Charles Bridge was built in the early fifteenth century and crosses the river Vltava. It's one of the most famous places in Prague, and for good reasons! If you love late-night walks, even better. You can enjoy your stroll without other tourists trying to snap a pic, and truly savor the beauty and the magical, medieval atmosphere.
Walking through the tower will make you feel like a celebrity—it was reserved for Bohemian kings to pass under during their coronation.
Charles Bridge is named after the Emperor Charles IV.
Church of Our Lady Before Týn (Chrám matky Boží před Týnem)
This church is sort of like Sagrada Familia in Spain, just a lot older. It's gorgeous on the outside, and absolutely breathtaking on the inside—the two buildings do not look similar in any way. Just sayin'. 
It was built in the fourteenth century during the Charles IV era, and 400 years later, the interior was renovated in the opulent Baroque style while the spiky exterior remained in Gothic style.
This beauty can be seen from many vantage points.
Day 2
Prague Castle and Hradčany (Pražský hrad a Hradčany)
Do yourself a favor and save a full day for this. This complex of buildings from the ninth century might make your feet beg for a day off, but there's just so much to see here!
Here's what you don't want to miss while visiting Prague Castle:
Because of the constant rebuilding at Prague Castle, the structure represents almost every architectural style from the last millenium. St. Vitus Cathedral is an example of the Gothic style, while the Basilica of St. George and some of the palaces were built in the Romanesque style. The castle is open to tourists and is home to the National Gallery's collection of Bohemian mannerism and Baroque art, as well as other museums. The annual Summer Shakespeare Festival also takes place at Prague Castle.
As mentioned, this is the largest castle complex in the world. Wear comfy shoes, guys!
Day 3
Alright, I'm guessing that by now you're ready for a break. That's what the New Town is for!
New Town (Nové město)
The name is pretty self-explanatory, so I'm just going to say that Nové město has a lot to offer, even for shoppaholics and art-lovers.
Wenceslas Square (Václavské náměstí)
Saint Wenceslas Square is one of the main Prague squares, and it's very close to the main train station. If you love bars and parties, this is the place to go unwind after a long day of discovering Prague's historical jewels.
Dancing House (Tančící dům)
This building, named after Fred Astaire and Ginger Rogers, was built in 1996. Its unique design is considered controversial because it's located among Art-nouveau, Baroque, and Gothic buildings.
Tančící dům.
Powder Tower (Prašná brána)
This impressive building was built in the late fifteenth century, meant to be an impressive entrance to the city. Wondering why "powder"? It was used for gunpowder storage in the seventeenth century.
Not Leaving Yet? Places for a 4-7 Day Trip (or Longer)
Will you have more time to spend exploring Prague? Great! This will give you ample time to see even more of the city's major attractions. 
Day 4
Malá Strana
The name literally means "Little Side." How adorable is that? You'll find a lot of cute narrow cobblestone streets, numerous churches, little shops, and…
Petřín
This park on a hill in the center of Prague is an amazing place for walks and taking in the gorgeous views of the city. Also, if you're going to propose while in Prague, I suggest you do it here.
I know you're probably tired, but remember that 15k steps is the new 10k. So brace yourself and climb up the Petřín Lookout Tower (Petřínská rozhledna). The view will be worth it.
Days 5-7
Okay, maybe you're ready to explore outside of the city center, too! Take a day trip. You'll see more and let your mind rest a little.
Here are a few things you might want to see:
Vyšehrad
Vyšehrad was the royal residence of the Czech kings until the early twelfth century when they moved to the new, modern Prague Castle downtown.
Do not expect to find a perfectly intact castle here (okay, it's ruins), but the views of the city are spectacular. 
If you're tired of spending all day in crowded places, Vyšehrad might be your jam: it's one of the few parts of Prague that isn't packed with tourists.
Karlštejn
This fourteenth-century castle up on a hill in the middle of the woods looks like something straight from a fairytale. It's only a thirty-minute drive from Prague, and you can also take a train to reach this location.
The Pilsner Urquell Brewery in Plzeň
I'm pretty sure you've heard of this beer at some point in your life, just like we've all heard of Kleenex.
In just over an hour, you'll get to the birthplace of modern lager. If you decide to stay overnight, you can have a lot of fun taking a tour of Pilsen pubs and enjoying not just the beer, but also the Czech food!
Czech Survival Phrases for Travelers
I highly recommend getting your language skills up to date before you leave, because not a lot of Czechs speak English. Feel free to Czech out our vocabulary lists.
What words and phrases will you need the most during your stay in Prague? We've got you covered!
| | |
| --- | --- |
| English | Czech |
| "Hello." | Dobrý den. |
| "Thank you." | Děkuji. |
| "Goodbye." | Nashledanou. |
| "Sorry." | Pardon. |
| "Very good." | Moc dobré. |
| "I don't understand you." (to locals who don't speak your language) | Nerozumím vám. |
| "Where is the restroom?" | Kde jsou toalety? |
| "How much is it?" | Kolik to stojí? |
| "I want this." (while shopping or ordering food) | Vezmu si tohle. (while shopping) / Dám si tohle. (while ordering food) |
| "Help!" | Pomoc! |
Want more? Then see our list titled Don't Travel Without Knowing These Top 10 Czech Verbs! 
How CzechClass101.com Helps You Learn Czech in a Fun Way
That's it, guys! I hope you enjoyed this article and learned something new!
If you're taking your Czech studies seriously, your two main options are to grab a Czech grammar book or learn online (the latter of which is way more convenient).
CzechClass101.com will make learning Czech easy, exciting, and fun. With us, it's not about endless memorizing or thick textbooks. Learn Czech with us and make progress faster than you could imagine!
What can you find here?
Sign up now—it's free!
One last thing: Which of these Czech travel destinations are you most excited to see, and why?